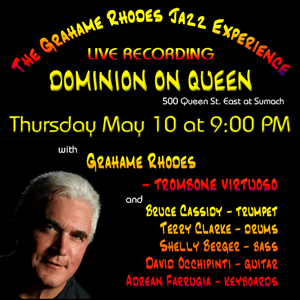 Welcome to the official website of Grahame Rhodes, jazz trombonist. We invite you to get to know this extraordinary musician who has taken the trombone to the whole new level of performance - read his peculiar life story, find out how he had learned from, and shared the stage with some of the most prominent jazz masters, and listen to the samples of his music. Read more of Grahame's personal thoughts at his new blog.
If you are a fellow trombonist and would like to get a tip or two from the master, ask him for advice and he will be happy to help you.
The Guardian, January 14, 06 - Roads Less Travelled
Latest Recording

Rhodes Less Travelled
...The reason for the title of this recording "Rhodes Less Travelled" is because there is a wealth of material that is beautiful, evocative, and never heard. Music should not be just nice, but elicit emotions such as anger, pathos and great love. These emotions have meaning and depth and music connects them to the soul. Feelings such as these make us alive. If the work we did here can make you feel this, then we have succeeded...